The University of Chicago training program
is dedicated to achieving three predominant aims: excellence in patient care, leadership in medical research, and distinction in scholarship and education.The emphasis is on learning by doing and this educational philosophy of resident autonomy and responsibility runs through all three years of the program. Residents are constantly challenged to solve problems on their own, but are backed by an accessible, full-time faculty interested in and responsible for teaching residents.
The 4+2 Curriculum Model
Beginning in July 2013, our residency program moved to a "4+2" curriculum model. In this model, residents have their inpatient and outpatient rotations completely separated. Residents alternate between a 4-week block of inpatient care and consults and a 2-week block of dedicated outpatient ambulatory medicine.Benefits and highlights of the 4+2 include the following: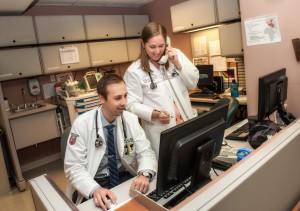 * The team structure is better preserved on inpatient blocks as there are no competing needs from managing continuity clinic patients.
* Ambulatory training time is protected and includes at least one administrative/reading half-day per week.
* Outpatient needs like prescription refills and paperwork are covered by a colleague while residents are rotating on inpatient blocks.
* PGY1 and PGY2 residents have a year-long longitudinal experience in a sub-specialty clinic during the ambulatory blocks. An example of a categorical intern's schedule in the 4+2 model is seen here.

Sample intern schedule in the 4+2 system
Vital Statistics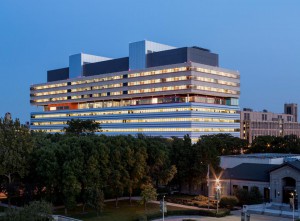 * The Department of Medicine has 42 first-year residency positions (32 categorical, 7 preliminary, and 4 medicine/pediatrics) and maintains over 200 beds at the University of Chicago Medical Center.
* Medical patients are assigned to a first-year resident (intern) who is supervised by an advanced resident and an attending physician.
* First year residents typically admit 5 new patients per call cycle and care for 7-10 patients at a time.
* Most first year residents see their continuity clinic patients in the Primary Care Group. In the 4+2 curriculum, ambulatory training now spans the entire three years of residency.
Other Highlights of the Curriculum
* Continuity clinic begins during the first year. First year residents acquire a cohort of patients that they will follow throughout the three years of training.  The majority of residents have their continuity clinic on campus. Some residents may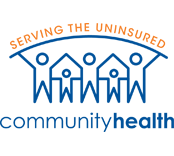 choose to take their continuity clinic experience at a community-based free clinic in the Englewood neighborhood of Chicago.
* Sub-specialty training at the University of Chicago Medical Center is distinctive because the Sections of Cardiology and Hematology/Oncology each operate discrete inpatient services. The other sections are combined into the general medicine services, assuring residents of rigorous training in a broad range of medical problems.
* Each section in the Department of Medicine has its own outpatient clinic and consultation service through which residents can rotate on consultation, ambulatory, or elective rotations.
* The Section of Pulmonary and Critical Care Medicine directs a 24-bed medical intensive care unit in which patients from all services receive care. The medical ICU is housed in the Center for Care and Discovery.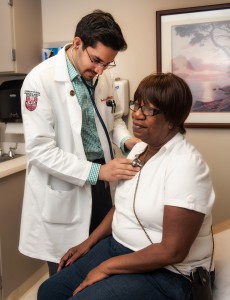 * The Cardiac Care Unit has beds fully equipped for invasive hemodynamic and electrophysiologic monitoring. The case mix includes post-PCI patients, those with balloon pumps, pre- and post-transplant patients, and care for the patient on ECMO, Impella, and other advanced cardiac assist devices.
* Residents participate in a geriatrics curriculum through outpatient rotation(s) at the South Shore Health Center. This rotation also includes formal nursing home and hospice experiences.
* Over three years, each categorical resident has access to a total of ten weeks of elective/research time.
* The housestaff program is in accord with the requirements of the American Board of Internal Medicine. The program is fully accredited by the Accreditation Council for Graduate Medical Education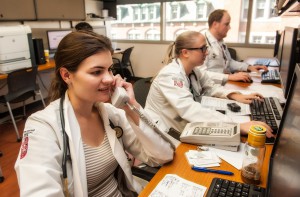 Teaching conferences
Teaching conferences complement daily attending rounds and include the following:
* Daily Morning Report is the most popular conference among residents. Every day, a resident prepares and presents a case to colleagues, the chief resident, and the attending physician. As you will see on your interview day, residents engage in vibrant discussion and debate.
* Morbidity and Mortality Conference and Clinical Pathophysiology Conferences are other favorites among the housestaff. These conference focus on both pathologic correlations to clinical disease and on quality control and process improvement. Discussants include faculty from multiple medicine disciplines, residents, and pathologists.
* Daily subspecialty teaching conferences in critical care take place in the ICU.
* Daily lunchtime lectures on various topics in internal medicine are given by both general medicine physicians and subspecialists.
* Our recently retooled Evidence Based Medicine and Journal Club curriculum consist of small group discussions in which residents discuss and analyze recent literature, landmark articles, and translational research. An attending discussant is present as well.
* Weekly Intern Report is a protected time during which interns gather to discuss a recent case with the help of an attending and chief resident.
* Our new weekly Face Off conference is a forum for two attendings to debate a controversial topic in their fields of interest.
* Monthly firm meetings are an opportunity for each of the firms in the 4+2 model to discuss outpatient care and other special topics.
* Board Review is a chief resident-organized series of weekly reviews preparing second- and third-year residents for the ABIM exam. An expert attending is present to assist with discussion.
Rotations
All residents may indicate preferences for specific rotations, and most schedules can be accommodated. Continuity clinic begins during the first month of residency. Altogether, internship training usually consists of the following:
* 3 months of Inpatient General Internal Medicine
* 2 months of Subspecialty Inpatient Medicine including Hematology-Oncology and Cardiology
* 3 months of Ambulatory Care
* 1-2 months of medical ICU
* 2-4 weeks of CCU
* 2 weeks of Consults
* 2 weeks of Emergency Medicine
* 4 weeks vacation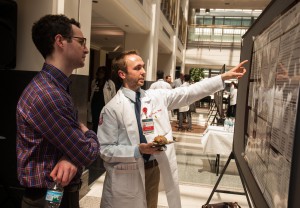 Second and third year residents rotate in 2- or 4-week intervals through each of the subspecialty inpatient services and most consultation services interspersed with two week ambulatory blocks.
Senior residents generally have first priority for rotations they did not have in their second year.
During the ambulatory rotation, residents are instructed in evidence-based medicine.  They also participate in a separate ambulatory morning report, an ambulatory curriculum, and have a longitudinal sub-specialty outpatient experience.