Thank you for taking the time to explore our program and all it has to offer. As chief residents, we are obviously partial to the University of Chicago, but we truly believe our training program ranks among the best in the country.
Why the University of Chicago?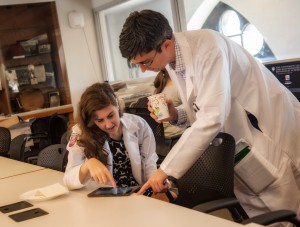 We strive to stay at the forefront of internal medicine education. Some of the highlights of our program include the following:
Exceptional resident autonomy. Our residents regularly cite this attribute as one of the most outstanding qualities of their training. Of course, support is always available, but you will be given opportunities to own the care of your patients and make your own critical decisions.
Opportunities to care for the underserved. Our hospital serves a number of Chicago's highest risk communities. These communities suffer from great disparities in access to health care and outcomes.
A robust, technology-driven program. Our iPad program is one of the first and most developed programs in the nation. All house officers receive an iPad on their first day of training. The iPad has increased resident efficiency, enabled peer and student teaching, and allowed for access to evidence-based resources in real time at the bedside.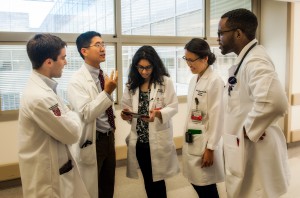 Unparalleled opportunities to engage in scholarship. We have a tremendous, devoted faculty who are committed to mentoring housestaff in basic, translational, and clinical research projects. Nearly 100% of our trainees engage in scholarship, and the vast majority of them produce meaningful publications.
Career mentoring and excellent fellowship matching. Our residents continue to fill spots in the most competitive subspecialty fellowship positions nationwide.  You can see for yourself; check out our fellowship match results from 2009-2013 and our most recent match in December 2016.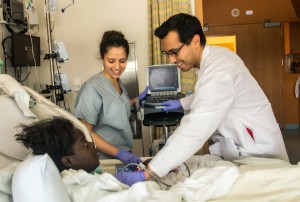 An innovative, unique ultrasound curriculum. All housestaff receive a formalized curriculum that provides residents with practical skills in ultrasound-based bedside diagnosis.
Protected inpatient and outpatient experiences. With our 4+2 curriculum, you will have time to focus on your ward duties and ambulatory care separately.
A multifaceted and one-of-a-kind resuscitation curriculum. We are one of the few programs in the country in which medicine residents run all "code teams." Our respected faculty are national leaders in research and care around ACLS and post-resuscitation care. We have a strong simulation program, mock codes, and monthly resuscitation reviews as well as extensive institutional support for high-quality resuscitation and therapeutic hypothermia.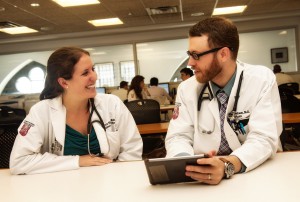 An outstanding and vibrant housestaff. Not only do our interns and residents bond on the job, but they also form extremely close friendships that last a lifetime. Just ask around!
Training in a truly world-class city. If you don't know all that Chicago has to offer, you haven't looked hard enough. A beautiful city on Lake Michigan, Chicago is renowned for its cultural offerings, beautiful architecture, amazing restaurants, distinct neighborhoods, and affordability.
More Information – Our Chiefs' Site
If you are interested in the program, you should also feel free to browse our Chiefs' website. While much of the information is directed toward our own residents, you can get a better sense of the program's inner workings.

---
About the Chiefs
Marie McKinnon
Medical School: University of Colorado
Career Plan: General Internal Medicine
Email: marie.mckinnon@uchospitals.edu
Hi all! My name is Marie and I'm so excited to meet you!
Lauren Feld
Medical School: Icahn School of Medicine at Mount Sinai
Career Plan: Gastroenterology/Hepatology
Email: Lauren.Feld@uchospitals.edu
Welcome to the University of Chicago Internal Medicine Residency website! I am honored and excited to be one of the chief residents for the upcoming year. I grew up in Seattle and received my undergraduate degree from Wesleyan University and my medical degree from the Icahn School of Medicine at Mount Sinai in New York. I was thrilled to come to Chicago for residency at the University of Chicago. I am applying for gastroenterology fellowship and plan to become a transplant hepatologist. My research interests include access to care for underserved patients, supporting caregivers and patients during the liver transplant process, and physician and trainee wellbeing.
There are so many things that I have enjoyed about continuing my training at the University of Chicago. Working with bright, thoughtful and supportive co-residents to care for a diverse patient population has definitely been a highlight of this experience. Another highlight is forming close mentor relationships with the faculty, who care about getting to know each resident's individual goals and values. The exceptional faculty not only support residents on the wards and the clinics, but they are also eager to help residents pursue a variety of career interests including clinical research, ethics training and medical education.
Living in an amazing city has also allowed me to pursue my hobbies outside of the hospital. In my free time, I enjoy running along the lakeshore running path and exploring different restaurants throughout the city. Thank you for your interest in our program and I look forward to meeting you!
Sarah Gray
Medical school: University of Michigan
Career plan: Pulmonary and Critical Care Medicine
Email: Sarah.Gray@uchospitals.edu
Welcome to the University of Chicago Internal Medicine Residency website!  I am honored and excited to be one of the chief residents for the 2017-2018 year.  I grew up in northwest Indiana and attended college at Indiana University in Bloomington.  I subsequently went to medical school at the University of Chicago and have been here ever since.
Hello! My name is Sarah and I can't wait to have the opportunity to meet all of you. I grew up in Michigan (with a little detour in Kentucky), and have been in the Midwest for most of my life. I went to Notre Dame for undergrad and then came back home to the Mitten for medical school at the University of Michigan. I love to travel, swim, cook, play with our dog (Banner) and explore all the great restaurants in Chicago.
I believe that one of the most crucial aspects of choosing a residency program is to train at a place where you feel supported by your colleagues. I am so fortunate to have found that here at University of Chicago. I knew that no matter what was happening, there was someone (often multiple people) in the hospital who I could count on to lend a hand. The spirit of collaboration also extends throughout the faculty and fellowship programs, providing ample opportunities to identify mentors and research projects. That, coupled with the exceptional clinical experience and resident autonomy of our program provide a robust training for whatever career you choose to pursue.
I am truly excited to be taking on the chief role in the residency program this year and will be applying for fellowship in the field of Pulmonary and Critical Care. Our door  (and email inbox!) is always open if there is anything we can do to help you navigate your interview process.
David Tehrani
Medical school: University of California, Irvine
Career plan: Cardiology
Email: David.Tehrani@uchospitals.edu
Welcome everyone! My name is David, I am excited to be one of the Chief Residents for 2018-2019. I grew up in San Diego and didn't go far for undergraduate (UC Los Angeles) and medical school (UC Irvine). Coming to Chicago three years ago has been a wonderful change! I have fallen in love with the city—the festivals, the restaurants, the lake front, all the sports teams, etc. I have spent my time eating my way through the city with my wife (Katharina, an OBGYN resident here at the University of Chicago) and checking out all the awesome breweries Chicago has to offer. Most importantly, being here in Chicago has given me the opportunity to have exceptional clinical and research training. I am constantly impressed by the pathology and the cutting-edge therapies that we are part of as residents. We are lucky to be at a program that prides itself on its autonomy and making great well-rounded physicians. The program leadership, attendings/fellows we work with, and all the residents themselves help foster a collaborative and supportive environment that makes our training really enjoyable. I'll be pursuing Cardiology fellowship after my Chief year and couldn't be more excited to build on the vast exposure I have gained at the University of Chicago. I am looking forward to meeting you on the interview trail, so I can talk your ear off about a program that I love!